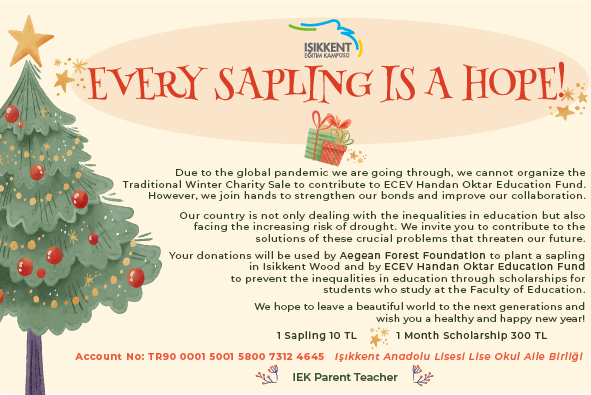 WE ARE LOOKING FORWARD TO YOUR CONTRIBUTIONS TO THE PTA CAMPAIGN
24.12.2020
Dear Işıkkent Family,
We are going through a pandemic that has been teaching us to adapt to different circumstances.
Unfortunately, we cannot gather together to get prepared for our Traditional Winter Charity Sale but are looking for different ways to strengthen our bonds and improve the collaboration between us.
As PTA members, we have found a new way to realize our Traditional Winter Charity Sale and decided to work towards two directions to improve the sense of belonging, competence, collaboration, unity and solidarity for the school. One of them is to contribute to the ecological balance while the other – and essential one – is to maintain our support for modern education projects. With these aims in mind, we will set up another Isikkent Wood on behalf of our school through the agency of Ege Orman Vakfı (Aegean Forest Foundation) and make donations to ECEV - Handan Oktar Education Fund.
As IEK Family, we are looking forward to the contributions of all parents, teachers, students, graduates and sponsors, and hope to realize these aims together.
We wish you all a healthy, peaceful and happy new year!
IEK Parent Teacher Associations
1 Sapling 10 TL / 1 Month Scholarship 300 TL
Bank Account: TR90 0001 5001 5800 7312 4645 72
Işıkkent Anadolu Lisesi Lise Okul Aile Birliği