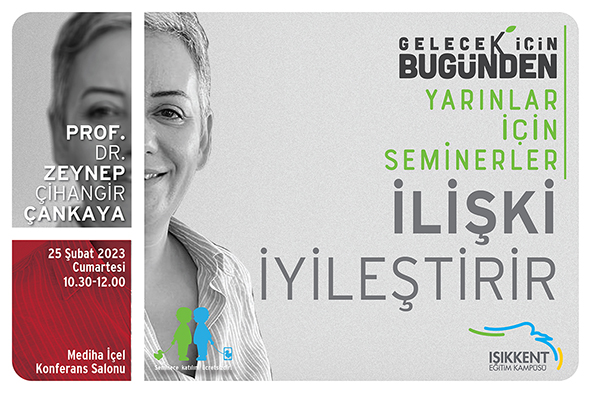 SEMINAR "CONNECTION HEALS"
23.02.2023
Our lives have been disrupted, our nation has been deeply affected and various feelings such as sadness, energy loss, general reluctance, and guilt have occupied us after the earthquake that hit 10 of our cities and led to huge losses. While binding up our wounds together as a society, we will take strength from each other to improve our mental health.
With this purpose in mind, we will discuss how to deal with feelings such as anxiety, fear, despair and reluctance with Prof. Dr. Zeynep Cihangir Çankaya in this year's last session of "Seminars Towards Tomorrow", which will be held on Saturday, February 25, 2023, with the title of "Connection Heals".
We will work on the following questions and concepts with Prof. Dr. Zeynep Cihangir Çankaya, who says, "Children need compassionate and guiding parents and teachers.":
For ourselves: How is our relationship with our own self? The closer we get to ourselves, the closer we get to our children. How do we handle difficult emotions?
For our children: How do our children handle themselves, their temperament, feelings, emotional needs, thoughts, and behavior?
For our relationship with our children: Compassionate and guiding parents ease the tension, heal the relationship and increase the endurance.
We are looking forward to meeting you in our seminar, where we will seek answers to the questions above.
Please visit our website to register for the seminar.
https://www.isikkent.k12.tr/seminer-zeynep-cihangir-cankaya
PS: The seminar will be held in Turkish and will not include simultaneous interpretation.