Returning to School
Beginning the educational activities after the pandemic requires serious planning and extraordinary measures. We are aware that our students and parents have concerns about the Coronavirus pandemic and its progress. We sensitively follow the announcements of all public institutions as well as local and global developments about the pandemic and continue structuring our plans based on up-to-date data and circumstances.
At IEK, we have designated specific rules, procedures and systems to prevent all students, teachers and employees from the risk of COVID-19 exposure; to maintain teaching and learning practices in a healthy, safe, systematic and corporate environment; to make our physical structure and materials aligned with the new social life and to ensure that all hygienic measures are taken.
You can find detailed information about our updated academic programmes, social distancing rules, classroom layouts, entrance-exit rules, school bus rules, cafeteria arrangements, health measures, infirmary practices, dormitory arrangements and visitor restrictions in the booklets below.
Following measures will be taken around the campus when face-to-face education begins to protect the health of all individuals at school, prevent the spread of the pandemic and avoid external risks.

Thermometers

Disinfection Units for school entrances, educational areas, restrooms and common spaces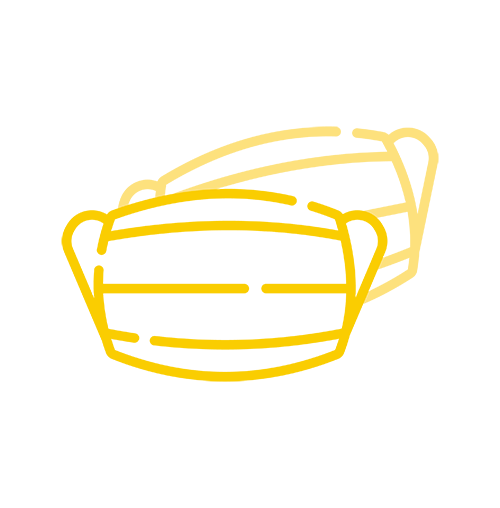 Masks

Automatic Hand Sanitizer and Soap Dispensers for restrooms and changing rooms

Apron, mask and gloves for all support personnel

Informative Stickers and Signs

Use of Bottled Water as water dispensers might not be healthy

Snacks packed in our own kitchen

Use of packaged utensils, salt, sauces and salads during lunch
For all routines and activities at school:
-Hands shall be washed and disinfected regularly.
-Social distancing rules shall be followed by keeping at least 1m distance from others while waiting, sitting and communicating.
-Temperature check shall be performed for all.
-Use of masks is a must, not an option for MS students, HS students and all staff members.
-Shoes and clothes shall be kept clean at all times.

All stakeholders participating in face-to-face education must obey the abovementioned rules (abbreviated as "HSTUS").
Learning Environments
Our learning environments have been rearranged to allow the implementation of social distancing rules as well as general hygiene rules and to eliminate the risks of the pandemic in accordance with HSTUS rules.
Classrooms:
-All desks have been rearranged to keep 1m distance between each student.
-Each desk will be labelled according to the seating plan.
-Disinfectants have been placed in each classroom.
-Natural ventilation will be prioritized over the A/C as long as the weather conditions allow.
Restrooms:
-Restrooms will be cleaned and disinfected daily in the morning and afternoon and after each recess.
-All faucets and soap dispensers have been changed to automatic faucets and dispensers.
-Signs have been placed to indicate how many students can use the restrooms at the same time.
Sports hall, labs, library and studios:
-Students will not be left alone in the sports hall, labs library and studios.
-The doors of the sports hall, labs, library and studios will be locked and monitored.
-Course materials will be kept in lockers.
-All activities will be supervised by teachers.
-Seating plans will be created, and students will not be allowed to swap seats without teacher permission.
-Disinfectants have been placed in the sports hall, labs library and studios.
-Disinfection will be performed when entering and leaving the sports hall, labs library and studios.
Garden and outdoors:
-Each school division will use its own garden area.
-All school facilities have been rearranged according to social distancing rules.
-A new seating plan has been created for the benches in the garden and the indoor seating areas.

School buses:
School bus rules have been reconsidered and structured according to social distancing rules as well as hygiene rules.
-School buses will be disinfected daily.
-School bus attendants will be trained about the pandemic.
-All passengers will put on their face masks and will not be allowed to get on the bus if they don't.
-All passengers will get on/off the bus at the designated spots.
-School bus drivers will act according to the instructions of the authorized personnel.
-Students who come to school by their own means will be allowed in through school gates after temperature and mask check.
Procedures To Follow When A Coronavırus Case Occurs
The procedures below will be followed when our employees and students are diagnosed with COVID-19 or have a 'casual' or 'close' contact with a confirmed case in accordance with the "COVID-19 Pandemic Management and Working Guide" published on October 1st, 2020 by the Ministry of Health Scientific Advisory Board. Parents and school are expected to maintain close communication and inform health authorities when necessary.
Reference: Pandemic Management and Working Guide by the Ministry of Health Scientific Advisory Board / October 1st, 2020
Returning to School
Bizi Takip Edin