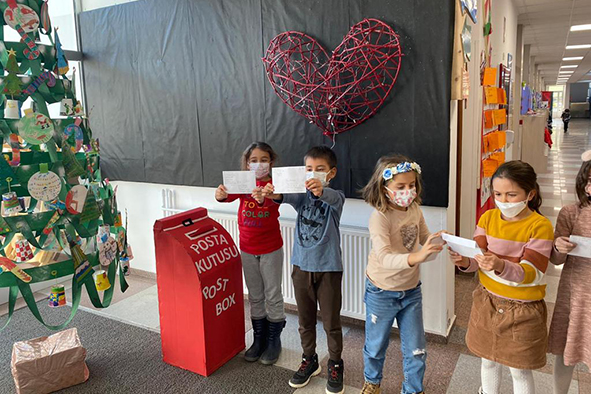 NEW YEAR JOY IN PRIMARY SCHOOL
29.12.2021
Our PS students had been counting down to the new year since December 1. During this countdown, they spread goodness and kindness to the people around them as part of their "Movement of Kindness". Also, they prepared new year cards to communicate their new year wishes to a friend chosen through a lot. They wrote their own address as the sender and their friend's address as the recipient on the envelope. Then, they put their cards in the post boxes in the corridor. A few days later, a postman came to our school on bike and delivered the cards to their recipients.
Inspired by the idea of "happiness grows when shared", our students prepared new year cards at home and put them in the post boxes of their neighbors as well. This project helped our students learn their addresses and realize how easy pleasing others was.
Our students also wrote their good wishes for earth on their classroom doors, and gave a mini concert, where they sang new year songs. They will be watching movies and eating popcorn on the last school day of 2021.