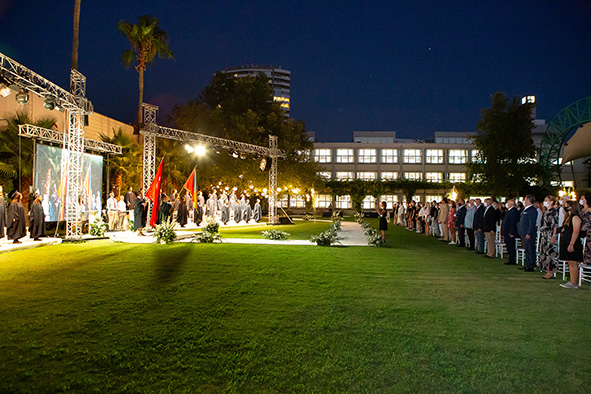 AN EMOTIONAL GRADUATION CEREMONY
13.08.2020
Our graduates of 2020 completed their secondary education after getting through a very challenging period. They experienced a very different type of education in front of their computers due to COVID-19 pandemic but still succeeded in getting great results. We took serious hygiene measures against coronavirus while organizing our 12th graduation ceremony and met our 12th graders in our school garden after a very long time. During the ceremony, we gladly witnessed them getting their certificates in their graduation gowns and caps.
Our top three students took their awards from Ali Ihsan Ozgurman, the Chairman of CESVAK; Canan Harmancı, the Head of School; and Tufan Capar, the HS Principal, during the event where we experienced happiness and sadness at the same time. Also, Nazlı Yurttekin, a graduate of 2010, attended the ceremony as our guest speaker and gave a speech to the graduates of 2020.
At the end of our 12th HS graduation ceremony, where we felt very proud of our students again, all graduates threw their caps in the air while singing the school anthem together. Then, they placed their plaques on the Wall of Honor. We wish all of our graduates the best of luck and a continued success!